Hot Stamping Pressure Factor:
Hot Stamping Temperature
Decisive Factor:
Pressure
Certificate:
ISO9001, SGS
Transport Package:
Wooden Case
Specification:
7380x4100x2120mm
EXCELCUTÂ Fully Automatic Hot Foil Stamping Machine for Sale
>>> Â About EXCELCUT
WenHong ExelCut series of  automatic die cutting machine is equipped with Japan custom-made feeder to ensure the stabilization and smoothness of sheet feeding. Speed up to 7500sheets/hr and accuracy within 0.15mm.
We offer three sides stripping and fully stripping as option. The high precision, reliable performance and durability  make it one of the best options for die cutting.
>>>Â Â Specification
 
Model

105SF

Max.Paper size

1050x750mm

Min.Paper size

400x360mm

Max. Die cutting size

1040x720mm

Max.Stamping size

1020x720mm

Inner chase size

1080x745mm

Material

90-2000gsm cardboard. Â 




0.1-2mm cardboard, corrugated cardboard ≤ 4mm

Speed

Max.7500sheets/hr ( die cutting)




Max.6000sheets/hr (stamping)

Working Pressure

300T

Max.feeding paper pile height

1200mm

Max.conveying paper pile height

1000mm

Electrical heating System

12 individual zones, Max.heating temperature 120ºC

Machine weight

16T

Machine Size

7380x4100x2120mm

Air pressure

0.6MPa

Registration Accuracy

±0.075mm

Gripper Edge

8-12mm

Max.foil Diameter

250mm (vertical)




250mm (horizontal)
>>> Â Sections

1. feeding



* adopts the unique design of the front paper technology devices.
* paper stack damper can be adjusted in accordance with the thickness of the paper.
* automatically adjust the left and right side boards, also can be independent position fine-tuning.
* choose high pressure blower, air volume can adjust frequency conversion.
* both sides a a lateral positioning rules (PUSHLAY).
* high quality resistant conveyor belt, pressure paper brush can adapt to different thickness of the cardboard.
* advanced phase adjusting mechanism, can be in the process of operation, non-stop to adjust paper in place of time.
* unique design of the cardboard to the gauge before retarding mechanism, to ensure the cardboard paper margin rules before the arrival of leading edge smooth, to ensure that the die cutting precision.

2.Hot Stamping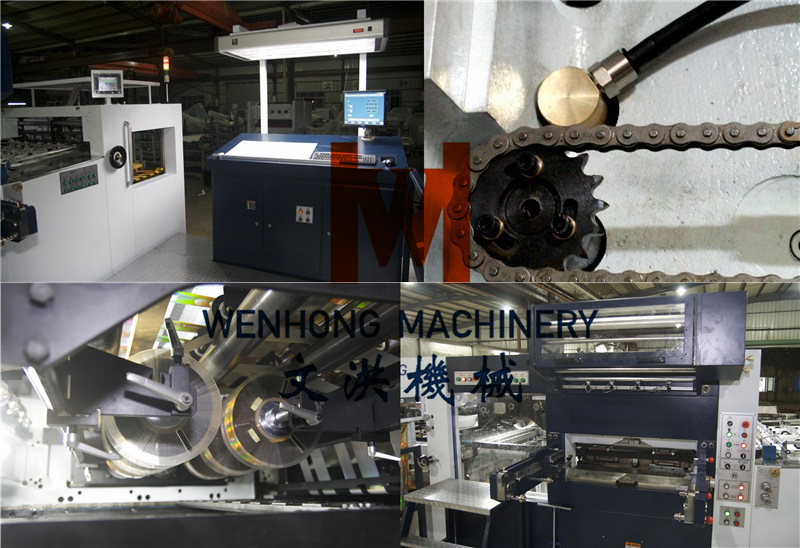 * the hot stamping department control system adopts the most advanced technology 
* air-cooled foil tension shaft;
* full computer control gold foil walking, jogging set programming;
* put gold standard for biaxial scroll namely SanZongLiangHeng institutions;
* hot stamping department each axis has a high-power servo motor drive, and independent programming set gold foil walking, jogging;
3. Die Cutting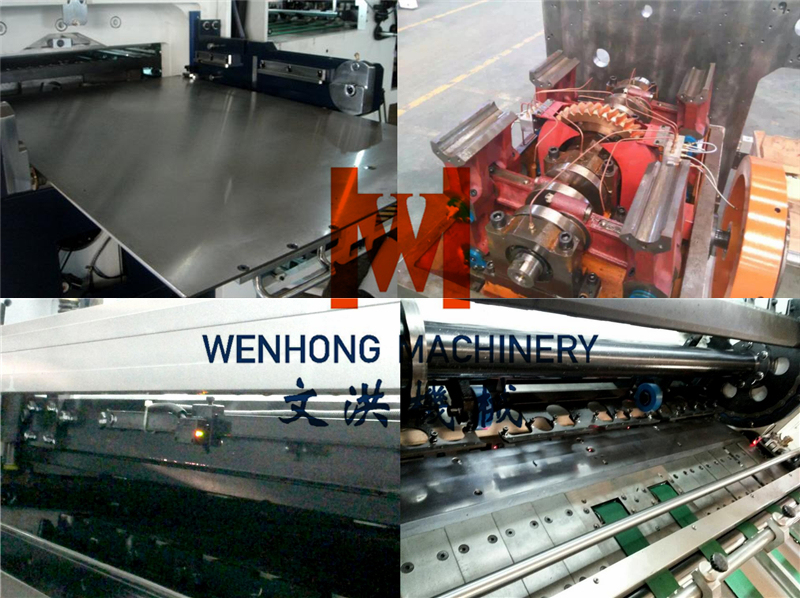 * turbine crank toggle high-precision flat die cutting workbench.
* stationary plane with high precision die-cutting on the workbench.
* die cutting operation safety door and plate and frame safety lock system.
* brand pneumatic clutch/brake.
* the latest technology multiple disk CAM intermittent transmission mechanism.
* automatic voltage regulator, reduce the operating strength.
* high precision imported diao paper tooth row of transmission chain.
* 8 diao paper tooth row, each row 12 (imported spring steel sheet) diao paper tooth and tooth pillow.
* the configuration magic eye, mouth and out of the paper inlet paper and paper in wide quick detection.
* die cutting knife plate with central positioning system, easy loading plate quickly.
* electronic fault display screen and speed.
* components cooling ring back device for the forced lubrication system oil oil distribution display and fault alarm device.

 
4. Delivery
Full auto master stacking with one standby,user friendly with jobs of different kinds
Buffer for gripper tension adjustment;
Brush and air to square the batch;
Auto lubrication for main chain;
5. Electric control system
 
Imported PLC controls the operation
 of machine
 and fault monitoring system(display screen).
Electrical components and electrical wiring adopt Western countries
'
 advanced
 safety standards.(CE approved)
6. Floor Plan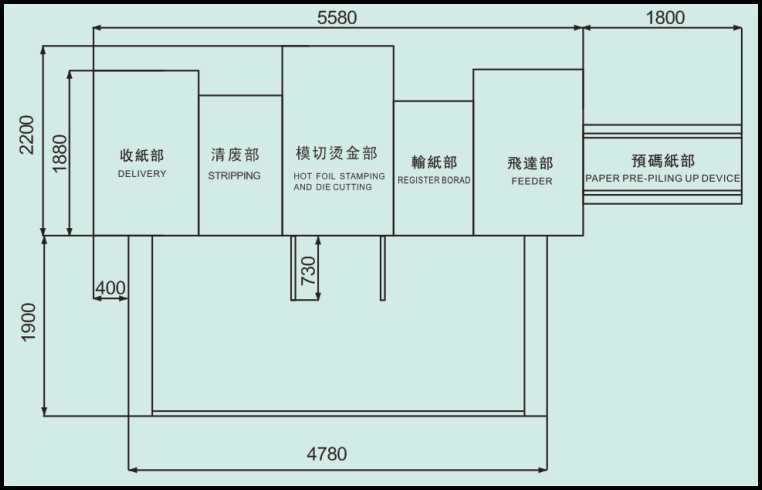 >>>  About Us   
Headquarter
Add: Wenhong Industrial zone, kukeng, Guanlan,Shenzhen,China.
Postal Code: 518110
Tel: +86-755-2808 8188Â Â Â Â Â Â Â Fax: +86-755-2808 8558

Wen Hong Jiang Su 
Add: No.88, Hai Lun Road, Su Tong Science and Technology Industrial Park, Nan Tong City, Jiang Su Province.
Postal Code: 226000
Tel: +86-513-85500888Â Â Â Â Â Â Â Â Fax: +86-513-8590 0666
Website :

 www.wenhong.net.cn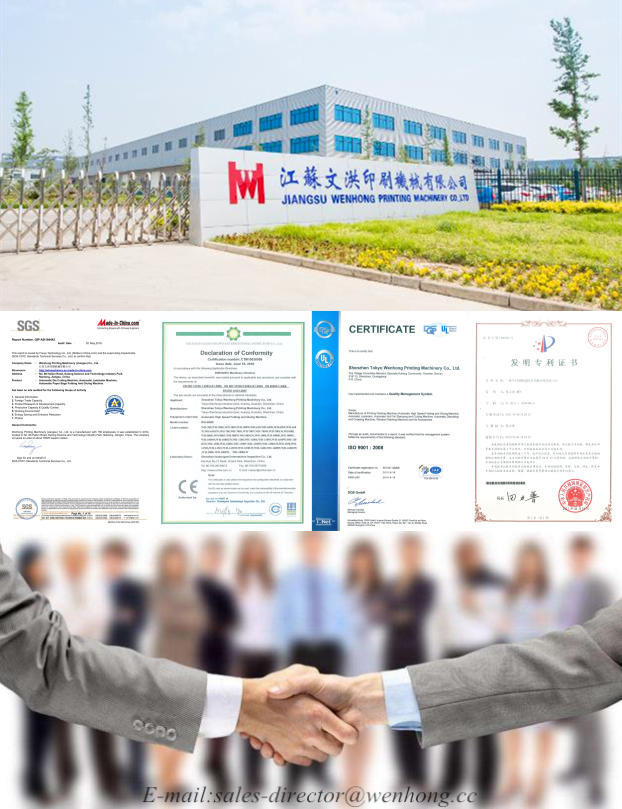 With Torch Rechargeable Mosquito Swatter
Rechargeable Mosquito Swatter With Torch, Mosquito Swatter Bat, Rechargeable Mosquito Hitting Swatter
ZHEJIANG ZHOUHE TECHNOLOGY CO.,LTD , http://www.zohetech.com